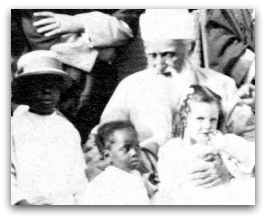 "If the heart is pure, white or black or any color makes no difference. God does not look at colors; He looks at the hearts. He whose heart is pure is better."
-'Abdu'l-Bahá 
Please join us for the commemoration of `Abdu'l-Bahá's visit to Rankin Chapel in 1912. `Abdu'l-Bahá was the son of the Founder of the Baha'i Faith and spoke extensively on the topic of racial unity during his journeys in America. He was an avid speaker for fostering race unity among Americans and worldwide.
We will have two speakers, one of which is Ms. Nwandi Lawson, a Howard University graduate in the field of broadcast journalism. She's a Baha'i from Atlanta and has written, hosted, and produced for CNN, Public Broadcasting Atlanta, and Georgia Public Broadcasting among others. Our second speaker is Ananda Ewing-Boyd, a young woman from Washington, DC. 
We will also have performances by youth groups and local musicians.
Light refreshments will be provided.
Parking on street, accessible by Shaw Metro Station and the 70/79 
buses
Service Project!
Please bring canned goods and lightly used clothing. These will be donated to Martha's Table and Martha's Outfitters respectively.
Please do not bring peanut butter, candy, junk food or soft drinks. They will not be accepted. 
Related Links: